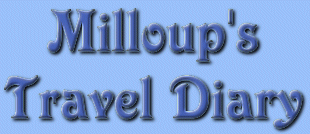 Milloup just loves getting out and about, seeing and doing things we don't usually do - which is just as well, because so does his "mummy".
For the first couple of years our journeys took us places only within Denmark - shows and tests, visits with friends and relatives. But gradually I realized that the kind of beauty Milloup possesses is generally appreciated the most by the German show judges, and as Milloup had duly passed all the tracking tests he could take in Denmark and had been awarded his Danish Working Championship in record time, I decided to look outside the Danish borders for new challenges.
So far we've been abroad seven times, but as no pictures exist from our first trip - to Neumünster in June 1998 - no travel diary has been made for that trip either (for the information of any interested parties the following: Milloup was rated as V4 by the German judge Martin Fries).
Since then we've been to
Join us!