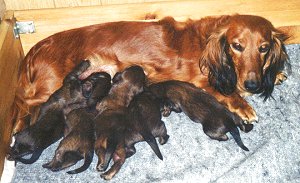 In the next picture, on the right, the puppies are some days older and have put on quite some weight.
Notice the plump posteriors!
Alex is a formidable dam who takes very good care of her offspring. In the picture on the left the puppies are only a couple of days old, but as can be seen they have already mastered the essentials in this world; they've found the bar - the milk bar, that is..