Not only does this make Milloup the best Danish dachshund on trails 1997, it also makes him:
Denmark's youngest dachshund DKBCHS (WCH/T) ever
Only Danish dachshund ever to attain the DKBCHS before its second birthday
Only Danish dachshund to attain the DKBCHS in just 7 tracking competitions
Only Danish dachshund to attain 4 working championships from trails without even as much as one miss on the way
Said about Milloup by Danish tracking judge Dorthe Pedersen on 16.08.97: "Alle burde bare 1 gang i livet være forundt at opleve så dygtig en hund." (Everybody ought to have the opportunity - if only once in a lifetime - of watching a dog that good)(Danish Dachshund Club magazine Gravhunden no. 5/97)
Tracking judge Arild Emilsen, Norway, about Milloup on 27.09.98: " Et meget serdeles bra ekvipasje. Dette er en hund med meget skjeldne spor kundskaper." (An exceedingly competent team. This is a dog with rare tracking abilities indeed).
Tracking judge Bo Pihl, Sweden, about Milloup on 27.05.99: "En lugn fin mycket spårnoga hund bland det bästa jag har sett." (A very good dog, always working directly on the trail. Amongst the best I have seen)
Dog shows
The results on trails apart, Milloup has also done fairly well in dog shows and obedience. In dog shows he has been rated as "very promising" twice in the puppy classes, and in the junior/youth/open/working classes he has so far been awarded more than 10 first prizes - his best results so far were obtained in the junior class back in 1996, when he was rated 1 JK, 1 JKK, SLJ, 1 UKK, SL, 1. v. u/cert (1 prize in junior class, best junior male, very promising junior, best male youth class, very promising youth, best working dog but without C.C.). In the working class on 9 April 2000 when he was rated 1.pr, 1.v, CK, Cert and BIM (1 prize, first winner, "Certificate of Quality"), C.C. and Best of Opposite Sex, and he almost matched this performance on 9 July on the island of Bornholm when he won his second CC. One more CC will make him a Danish show champion.

Abroad he has obtained the following marks in Germany so far: Vorzüglich1, VDH-CAC (German C.C.) + DTK-CAC-Res. in Löverschen and in Pinneberg 1999, Vorzüglich1, VDH-CAC in Stuttgart (CACIB show) on 27 August 2000, and Vorzüglich2 + VDH-CAC-Res in Berlin 1998 and again in Rendsburg in 1999. On 29 April 2001 Milloup finally won his 4th VDH-CAC at the international dogshow in Oldenburg. This means that Milloup is now German (VDH) champion.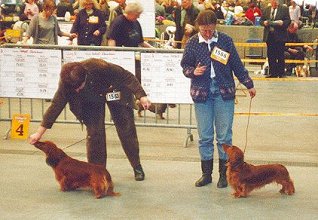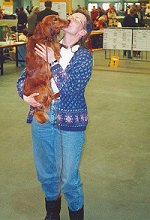 Obedience
In obedience he passed the beginners' test with 117 points of 120. (Best Dog of the Competition), and at 3rd go he passed class 1 with 90 points of 100 and obtained the title LP1. As for class 2, we also needed three attempts to haul the title in. After one 3 Prize and one 2 we finally managed to get the 135+ points needed for the first prize on 27 June 1999. So Milloup is now entitled to put the title LP2 in front of his name, too.

The entire clan
On 4th May 1997 we succeeded in gathering the entire clan for a family reunion. Unfortunately the weather was not on our side - it was raining cats and dogs, so this picture shows a bunch of very wet dogs.

From left to right: Sister Emma (Tess), Sister Viggo (Nicky), Milloup, Father Boris, Brother Rasmus, Sister Alex og Mother Line.
At the 1998 dachshund show in Silkeborg we again tried to gather the clan. This time we had luck with the weather, however not everybody made it there. Viggo and Emma couldn't come. About the rest of the family we can tell that both parents are well - and even at the age of almost 7 Boris is still able to collect a CK at a show. Rasmus has grown into a big - very big - easygoing and food-loving boy of 12 kilos, and Alex has been adding to the family. In early May 1998 and again in July of 1999 she was "attended to" by Czardostax v. d. Teschenhöhle of the Tranevang Kennels, one of the most used studs of the present time. These two unions have resulted in a total of 13 puppies.